Welcome to our TROPICAL (CLICK)FRUIT(31 kB)WORLD
IMPRESSUM: Gerd Schrader Finca Argaga E 38870 Valle Gran Rey
T: 0034922697004 Mail: mail@fruchtgarten.info
A private little Tropical Fruit Garden on the little Canary Island La Gomera.
SEITEN in DEUTSCH
PAGINAS en ESPAŅOL
---
ENGLISH PAGES
ORGANIC GARDENING / BUTTERFLY-PARK (90kB) / CANARY ISLANDS and GOMERA LINKS /HOLIDAY: our HOUSE or FLAT for EXCHANGE
DATA-BANKS / Looking for PARTNERS and INFO and world-wide TROPICAL FRUIT LINKS
Over 140 tropical, subtropical and some temperate fruit-trees and plants.
It was a private non-profit hobby . Now we split into our still private club ATIC-CITA and a Botanical Garden with a separate homepage (later this year).
FRUIT OF THE MONTH ......MARCH :.......... MYSORE RASPBERRY (Rubus albescens)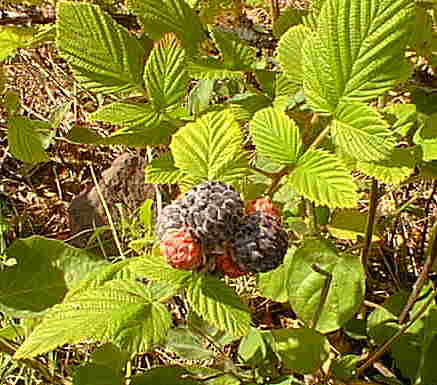 FRUIT OF THE MONTH APRIL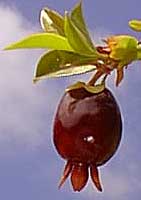 CHERRY of the RIO GRANDE
FRUIT OF THE MONTH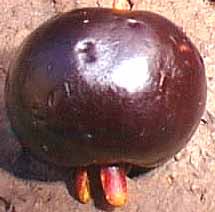 MAI:
GRUMICHAMA
FRUIT OF THE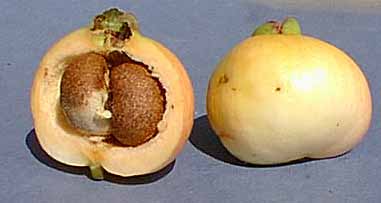 MONTH JUNE: ROSE APPLE
FRUIT OF THE MONTH JULY: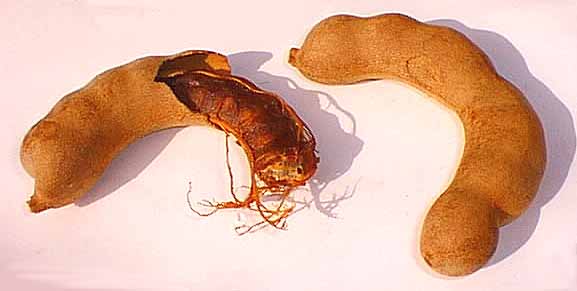 TAMARIND
FRUIT OF THE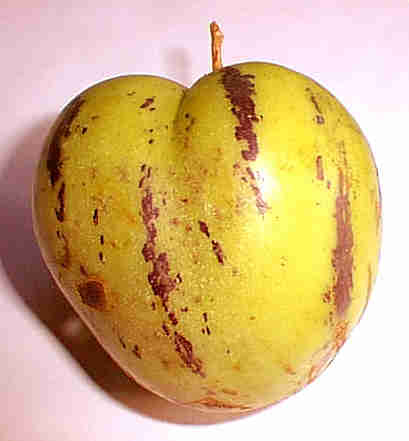 MONTH AUGUST: PEPINO DULCE or PERAMELON
FRUIT OF THE MONTH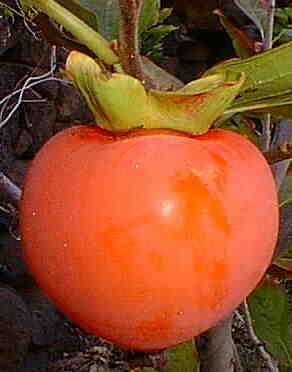 SEPTEMBER:
KAKI
ITīS TIME FOR BANANAS, BELOW AN ORINOCO COOKING BANANA

BANANAS BANANAS(95 k)
A PASSION FOR PASSION FLOWERS
Arbutus Canariensis (41 kB) the only native (endemic) interesting fruit here: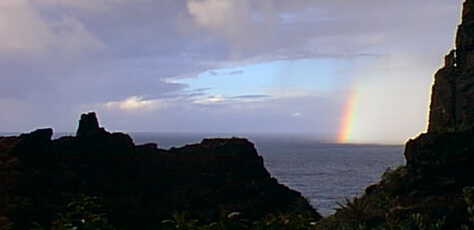 Above a rainbow seen from our place. LINK to 72 kB pictures and more if you want
How we started 13 years ago: (Begin with 115 kB pictures; more if you want)
---
FINCA ARGAGA E-38870 VALLE GRAN REY LA GOMERA ( CANARY ISLANDS ) SPAIN
Telephone: SPAIN 922 697 004 E-mail: schrader_gomera@mundivia.es
---
There are some GARDENWEBs, we will concentrate on fruit (and some vegetable) of warmer climates.
We are a member of California Rare Fruit Growers..worldwide club.....CRFG..http://www.crfg.org/
Founded in 1968, California Rare Fruit Growers (CRFG) is the largest amateur fruit-growing organization in the world, with members in 48 states and U.S. territories, and 30 countries. The worldwide membership of CRFG includes many nationally recognized botanical gardens, rare fruit enthusiasts, commercial fruit growers, and internationally recognized horticultural researchers. The organization has a general interest in all aspects of fruit growing with a primary focus on semitropical fruits and uncommon fruits.
Our English or Spanish is acceptable but not so good as our German. Excuse some mistakes.
We invite especially people from the Canary Islands to get into contact for personal meetings and so on.